Elli Smiles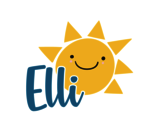 The doll that really smiles.
Elli Smiles makes a true connection with her doll parents. When they wear the special Elli necklace, the doll recognizes them and reacts with a smile. The soft baby doll has natural charm and a large range of realistic baby functions. Almost like a real baby, she expresses her feelings and can show her emotions. If her parents play with her, she is happy and smiles. She cries when she is sad but can be soothed in various ways. The movements of her mouth are realistic when she sucks on her dummy, and she drinks real water from her bottle. She can use the potty and soil her nappy.
With her various functions, she reacts to the human voice and touch. The combination of sound and movement make her feel like a real baby.
Elli Smiles wears an adorable pink wrap-dress decorated with her favourite motifs; moons, clouds and little hearts. She also wears a matching hat, blue leggings and pink fabric shoes with cute yellow pompoms.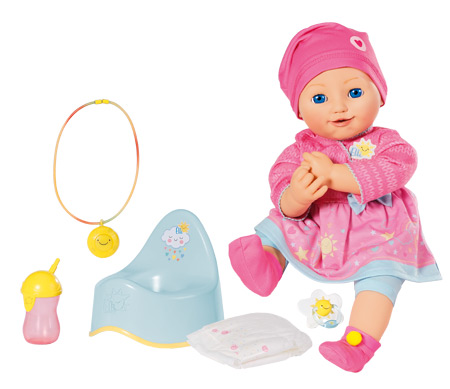 Elli Smiles 43cm
Article No. 960202
Realistic baby functions:
Responds with a unique smile to her doll parents when they wear the special necklace.
Drinks real water and moves her mouth.
Can go to the potty or soil her nappy.
Likes to be cradled or sung to sleep.
Has a soft body for cuddling.
Speaks in sweet baby language.
Reacts to the human voice or touch.
Can smile and cry.
Accessories: 1 recognition necklace, 1 bottle, 1 dummy, 1 potty and 1 nappy.
Doll size: 43cm
Suitable for children from 3 years